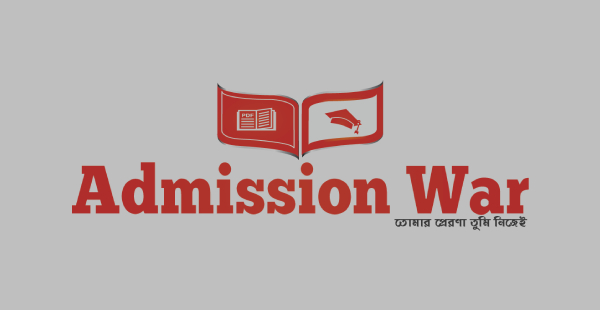 Rajshahi University Admission Notice for the 2022-2023 academic year. RU Admission Circular 2023 related some basic information has been published in different newspapers. However, the final admission prospectus has been published on both the official admission portal admission.ru.ac.bd and the university's website ru.ac.bd. This article will outline the essential requirements for the admission application, important dates and deadlines, the application procedure, and other relevant information. বাংলায় দেখুন
Rajshahi University Admission Circular 2022-2023
The University of Rajshahi is considered one of the top universities among the 53 public universities in Bangladesh. It provides undergraduate and graduate degree programs based on students' preferences. Candidates seeking admission to RU have to undergo several processes, including competitive admission tests, to secure their desired degree program. If you aspire to be a part of any department at Rajshahi University, this article can help guide you towards achieving your goals.
Admission Timeline
Primary Application Period: 15 to 27 March 2023

Primary Application Fee: 55 Taka

Final Application Period: 09 April to 02 May 2023

Final Application Fee: 1100 Taka

RU Admission Test Date: 29, 30 & 31 May 2023

Admit Card Download: 15 to 18 May 2023

Admission Result: To be announced

Total Seat: 3930

Application Link: admission.ru.ac.bd
Hello! a good news for you –
Rajshahi University has allowed 2nd timer students to apply for this year's admission.
Admission Test Routine 
The probable date for admission to RU is 29, 31 & 31 May 2023. A detailed final admission routine will be announced after the application process is completed. According to RU admission sub-committee, this year's admission test will be held in 4 shifts.
| | |
| --- | --- |
| Date | Unit Name |
| 29 May 2023 | C Unit |
| 30 May 2023 | A Unit |
| 31 May 2023 | C Unit (Non-Science) & B Unit |
Read More: বিশ্ববিদ্যালয় ভর্তি সহায়ক ১০০টি বইয়ের পিডিএফ
Rajshahi University Admission Requirement
Applicants who have passed the HSC or equivalent examination in either 2021 or 2022 (HSC Batch- 2021 & HSC Batch- 2022) are eligible to apply for all three units. Regardless of the unit for which a student is applying, the eligibility criteria specified for the academic stream from which they passed the HSC examination will apply to them.
A Unit (For Arts Group Students)
Only Humanities/Arts group students can apply for A unit.

SSC / equivalent GPA: 3.00 (with 4th Subject)

HSC / equivalent GPA 3.00 (with 4th Subject)

Total GPA In Both Exams: 7.00

B Unit ( For Business Studies Students)
Only students who have passed the Commerce Group can apply to the B unit.

SSC / equivalent GPA: 3.50 (subject to 4th subject)

HSC / equivalent GPA: 3.50 (subject to 4th subject)

Total GPA In Both Exam: 7.50

C Unit (For Science Group Students)
Only Science background students can apply for C unit.

SSC / equivalent GPA: 3.50 (with 4th subject)

HSC / equivalent GPA 3.50 (with 4th subject)

Total GPA In Both Exam: 8.00
See the notice to know about GCE O level & A level student requirements.

Hello! Admission Seekers , Do you know-
Rajshahi University offers a total of 3,930 seats across 59 departments and 2 institutes. About 45 students competing in the admission test this yearfor each seat.
RU Admission Test Method & Marks Distribution
Starting from the 2019-2020 academic year, the admission administration of Rajshahi University introduced a new admission test format. The admission test will now comprise both multiple-choice questions (MCQs) and a written examination. However, to secure a position on the merit list, candidates must score at least 40 marks out of a total of 100 marks.
Check Also: RU Admission Question Bank
| | |
| --- | --- |
| MCQ (Multiple Choice Questions) | 100 Marks |
| Pass Marks | 40 Marks |
| Every 5 wrong answer deduction | 1 Mark |
RU Admission Circular 2023
The Rajshahi University Admission Circular for 2023 has been announced. We have added images of admission notice as well as PDF file below.
Fee Payment Procedure (via Rocket)
Dial *322 #.
Select the "Bill Pay" option.
Select the "Other" option.
Enter the mobile number of the candidate in place of the "Enter Payer Mobile Number".
Select the "Other" option.
Type 377 in place of "Enter Biller ID".
The Bill number given on the slip must be provided in place of the "Enter Bill Number".
The amount of the total fee written on the slip must be entered in place of the "Enter Amount".
The PIN number of the customer's rocket account should be given in place of the "Enter PIN".
Then the payment confirmation SMS will come. Save the Transaction ID (TxnID) from this SMS.
Caution: Before paying, you must read the official prospectus, or we will not be responsible for your inconvenience.

Seat Distribution for Quota
Indigenous -50 (Maximum 2 in every subject)
Physical Disabilities- 50 (Maximum 2 in every subject)
Freedom Fighter – 5% of seats per subject
BKSP-  20% of seats in the physical education and science department.
Final Application Requirement
The Rajshahi University selection result have been released. Students were selected from among the initial candidates based on their HSC results. In the first phase, the GPA required to select the necessary number of applicants for the final application in different categories of each unit is provided below.
| | | | |
| --- | --- | --- | --- |
| Unit | Science | Humanities | Business Studies |
| A | 5.00 | 4.43 | 4.92 |
| B | 5.00 | 4.50 | .. |
| C | 5.00 | 5.00 | 4.92 |
The final application process will take place in three stages, and selected students from each stage must complete their final application within the designated time. After the deadline, applicants will not be given another chance to apply.
Final application schedule:
First Stage
Second Stage
Third Stage
RU Admission Admit Card & Seat Plan
Candidates must collect their admit card and seat plan before taking the admission test, else they are unable to enter the exam venue and complete the final admission. If you haven't downloaded your RU entry yet, click the button below.
---
Please join our Facebook Page & Group to get all admission information and the university admission book.